Pei Modern, Four Seasons Hotel, Sydney.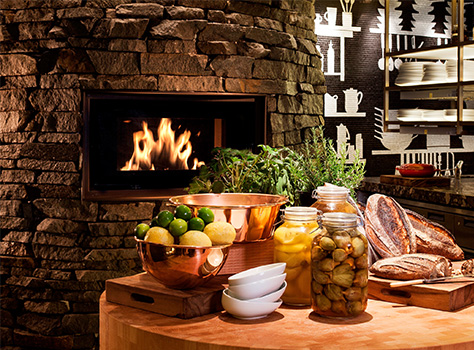 Located in the lobby of the iconic Four Seasons Hotel, the Phoenix Round Oven (model Jacaranda JC1500) is positioned as a dramatic freestanding feature in the Pei Modern restaurant. Equipped with a thermostatically controlled gas system and viewing window the oven is major focal point for diners and hotel visitors.
Design: Dreamtime Australia Design Contractor: Austmont
ei Modern assumed the space formally established by chef Hamish Ingram's, The Woods Restaurant. News quickly whipped around Sydney that Mark Best, of the acclaimed Marque in Surry Hills, was set to take the reins with a local arm of his Melbourne stunner restaurant.
"We've focused a lot of the menu on the wood-fired oven. With the extreme heat, you cook certain proteins a lot differently. The prawns are different to what you would get on a grill or a pan - they come out crunchier. Clams as well - they come out a bit smokier with a more interesting flavour." Head Chef, Matt Germanchis.
Restaurateur Mark Best reveals dishes that have a shot at becoming signatures include "the salmon tail roasted with rouille and samphire in the wood-fired oven. People are just going crazy for it. The roast tamarillo with vanilla ice-cream and vanilla powder is amazing, the wood-fired bread with our butter." (Maya Kerthyasa, Gourmet Traveller, 2014).