Char Grills & Feature Cooking Equipment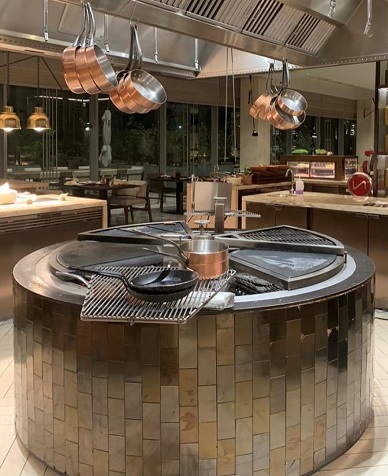 Phoenix offer a range of char grills and specialty cooking equipment that will make an impressive feature in any display kitchen. Customisation is our forte. Choose the shape, fuel type, configuration and accessories to create a bespoke grill for your next project. Available features include rotisseries, display gas or vapour flames, rear air curtin and various other unique design options such as decorative gantry and architectural fixtures for a unique point of difference.
GRILL OPTIONS
Feature Broilers: available with various grill configurations (wheel adjustable grill plates, angled rotisserie spears, motorised rotisserie for slow roasting and feature cooking)
Robata Grills: three tier construction with different cooking levels: searing, cooking, resting
Parilla Grills: South American inspired display grills with adjustable grill height
Tajine Fire Pits: slow cooking of earthenware pots above a fire pit with adjustable grids
Teppanyaki smooth griddle plates (electric or gas fired)
Churrasco: display multi-tier rotisserie cooking
Circular and Octagonal display grills
Custom fire pits, rotisserie and grilling concepts
FEATURES INCLUDE
Solid fuel (charcoal/wood), gas fired or electric. Specialty lava rock available on request
Solid fuel grills include refractory lined fire pit for superior thermal efficiency and longevity
Optional rear Gas Display Flame provides an impressive feature.
Optional Vapour Flame available for projects with gas restrictions
Optional Rear Air Curtain for minimisation of exhaust spillage and improved ventilation
Optional refrigeration and freezer units can be integrated
Optional GN wells and tray races create a functional workspace
Reversable heavy duty cast iron cooking grates allow for different score markings
Optional round-rod fish bars, specially engineered to minimise sticking of delicate fillets
Solid fuel grills available with optional additional gas jet or electric tool ignition
Seamless one-piece worktop and shoulders for optimal hygiene conditions
Reinforced construction to suit the demands of a busy commercial kitchen environment
Critical work area is ventilated using a patented design system
Various cladding and facade finishes including Ral colours, MFacies, MPatinae ranges available on request
All solid fuel grills include electric ignition tool for safe and easy lighting of material
Parilla Grill, Charcoal/Wood Fired. Adjustable cooking grill height. Rear Gas Flame and Air Curtain available on request.
Char Grill, Charcoal/Wood Fired with Resting Rack (optional) & Electric Ignition Torch (optional)
Adjustable Dual Wheel Grill - Charcoal Fired
Wheel Grill with Adjustable Grill height - charcoal/wood fired
Robata Grill, Charcoal/Wood Fired. Three tier cooking system. Various sizes and configurations available on request.
Churrasco Grill, Gas Fired. Complete with lower grill plates and removable side panels/glass inserts available
Multi-Spit Fire Pit with Rear Gas Display Flame (optional extra)
Feature Multi-Rotisserie with Adjustable Rotation, Charcoal/Wood Fired
Multi-spear Rotisserie. Charcoal/Wood Fired.
Teppanyaki Griddle. Gas or Electric units available.
Tajine. Charcoal/Wood Fired with adjustable grates for versatility and heat control.
Gas Char Grill with Itegrated Lower Refrigeration/Freezer Unit and GN wells (optional extras)